I, Siobhan Bolyn, Goddess of the Flame and Keeper of the Land and Water, must give birth to the next goddess before my three-hundredth birthday. My mate must be the preordained champion, so not just any man will do. But where to find a champion in this modern world?
When Niall Calhoun walks into my life, he's everything I've hoped for. Tall, dark, sweet, and gorgeous: the true four food groups. A mere touch of his hand and my libido roars to life. But is he champion material?
Meanwhile, dark forces are plotting against me and calling my abilities into question. I've got to battle forest fires, soothe the oceans, appease my mother, turn Niall into Mr. Exactly Right, and have a baby in the next year. Can a goddess and her champion handle all that and still find time to fall in love?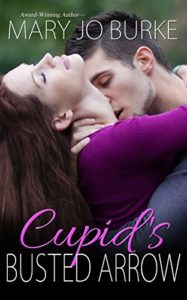 The gaping hole in Giselle Baylor's heart is ten years old and still bleeding. Matthias "Matt" Tyler Hall dumped her before the high school senior prom, and she's never recovered. Enter Nelly Steeple, a swearing, tattooed, multi-pierced, Shakespeare-hating Cupid to sprinkle life into Giselle's lack of romance. She must marry Matt before the clock strikes midnight on New Year's Eve or be alone forever. It would also delay Nelly's retirement by a century. Not gonna happen even if it means she drags them to the altar.
Picking up where they left off is impossible. Matt, a war photojournalist, has been injured and has a daughter. Giselle is beyond successful and wealthy. Their common ground is in the past. Is it enough to pull them into the future?
Buy Now:  The Wild Rose Press